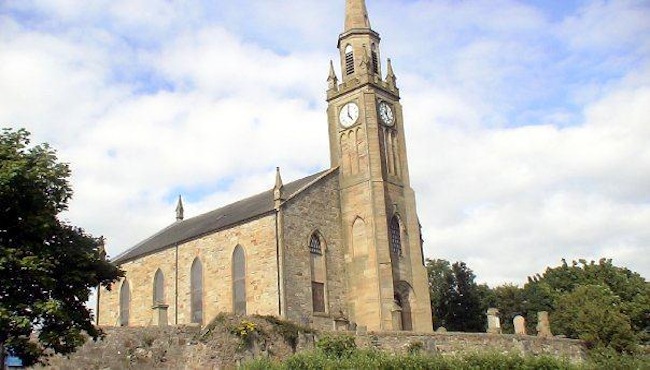 Stevenston High Kirk
We are glad that you are checking out our website. We would love for you to be our guest at Stevenston High Kirk this weekend! We know that coming to a new church can be intimidating. So we want to give you a glimpse of what to expect when you visit.
We are part of the national Church of Scotland located in North Ayrshire on the south west coast of Scotland. Our church is made up of people like you and me; people with dreams, hopes, fears and frustrations; folks who have made mistakes in life, and who have experienced real life problems.
We are also a people who have come to experience deep love, joy, peace, goodness, forgiveness, and acceptance. Jesus promised life in all its fullness, a newness of life, a life in the extreme, a life worth living, a life with meaning and purpose. We are a church with passion and purpose.
Here at the High Kirk you are not judged on how you speak, what you wear or what you have. You come as you are! We don't have to get ourselves right before coming to church; it is when we come as we are that the Spirit of God can then change us and give us meaning and purpose to our lives.
We are a church built upon "relationships" and not "religious duties". We do not come to church to merely ease our consciences; we come because we want to grow in a relationship with God the Father, who created us, and with his Son, the Lord Jesus Christ, who loved us, and with God the Holy Spirit who can profoundly change us. As we seek to grow in a relationship with God, we also grow in our relationship with others, which is what makes the High Kirk such a warm and welcoming home for so many.
How do I get there?
We hold services at Stevenston High Kirk on Schoolwell Street (access from Glencairn Street), Stevenston, North Ayrshire.
What about my kids?
Don't worry! During our Worship Service there is a Crèche and children's Sunday Club. You are welcome to drop them off at the Church Hall on the High Road, where they will also learn about God, and you can pick them up after the service ends (and enjoy a cuppa with us!).
What can I expect on a Sunday?
Each Sunday morning we meet in the main Church building at 10.30am. We are led by members of our church through singing, prayer, and reading from the Bible. Our Minister will teach lessons from the Bible each Sunday to help us live as Christians.
We seek to be sincere and relevant in our music and singing whether our songs are traditional or modern. Our singing each Sunday is led by organist and Praise Band.
The preaching is sincere and passionate, as we believe the gospel message to be radical and life-changing. We believe the Bible to be the Word of God and teach it as being relevant and foundational to daily life.
Don't forget to stick around afterwards for an opportunity to meet people (we enjoy a time of fellowship over a cup of tea and sandwiches in the Church Hall immediately after the Service) — you can also ask for one of our leaders to pray for you.
More About Our History