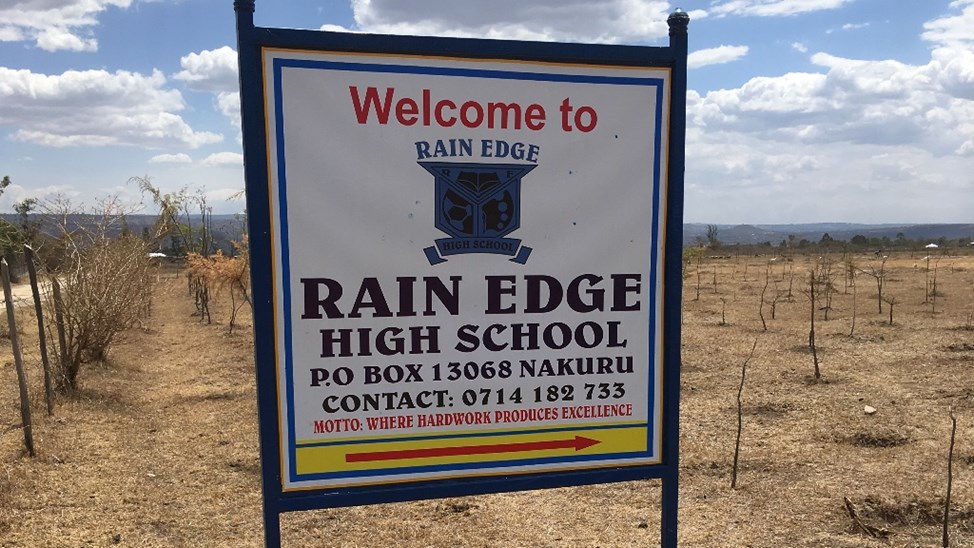 Would you like to be part of something Truly Electrifying?
Can you spare the cost of a coffee with friends £2?
We'd like you and 5,999 others to get involved with providing a Kenyan Community and it's New High School with Electricity - Something we take for granted every day. This will change lives - Imagine not having access to it!!!
Why not join with 5,999 kind hearted people in giving £2 or possibly more and help connect this High School to mains electricity.. The great news is, once the School is connected then the rest of it's Community can also have access to electricity for an affordable charge.
rainedgeinternational.org is where you can find out more about the amazing work they already do, or you can carry on reading here.
We'd love you to become part of this and make a donation to this link.
We invite you also to share this with others.
Rain Edge High School - A little About
This is a brand new High School, being created partly out of a need for further education for some at Sure24, the orphanage and also from a vision to provide a High School for the local community. When completed, up to 1200 students will be catered for, three quarters of which will be fee paying.
Construction is well under way with communal areas, teaching / discipleship quarters and several classrooms completed and in use. Water collection and limited solar power feature too, with plans for a water bore hole later in the year. Students planted crops during our stay for an autumn harvest.
There's a sports field with running track, Rugby Pitch, Basket and Volley ball courts, all intended for community use too.
The Need
Unlike Sure24 Orphanage, some 15 mins drive away, High School doesn't have access to mains electricity to power its classrooms, Science Lab, Kitchen, and rest of the facility.
In Kenya it's up to the first person wanting to be supplied to pay for all of the infrastructure; that is a transformer, poles, cabling and labour, some £12,000 in this case.
After that anyone from the community within a mile radius can access electricity for a modest sum.
The Appeal
To Challenge 6,000 people to each gift £2 or whatever sum God might put on your heart.
We in the West don't have to even think about flicking on a light switch to see better or plugging in a charger to power up our phones, laptops or turning the oven on. We just can!
Imagine the gift your giving towards in providing electricity, you'll be helping some of Kenyas' next generation to achieve their dreams of becoming Lawyers, Doctors, Politicians , Pilots, Musicians, or simply to give every day people something we can't do without - Electricity...
Sure24 Orphanage -A little About
Founded over 14 years ago, with Sammy and Millie Nawali's Core Christian values, this orphanage has gone from strength to strength. It succeeds in providing a safe loving environment for girls and boys of all ages to grow in. Most knew only of abandonment or conflict before coming here, surviving on the streets as best they could.
Here at Sure24 they are loved, valued, respected and encouraged to break free of past ways of life; they are offered hope and a future.
They now have their own water purification / bottling plant, bakery, garage, carpentry / metalwork workshops... all helping to meet their needs and providing employment, while any surplus is made available to the local community.
There is far more Information available at www.rainedgeinternational.org
Volunteering
There is always a need for volunteers' help whatever your gifting, simply spending time here with people is greatly appreciated. You will return home with far more than you came with - our minister, along with his family, certainly did!
Conclusion
So what's stopping you, come and be a part of this challenge... let's get electrifying, and change lives!
If this sounds good to you, please share it with as many people as you can.